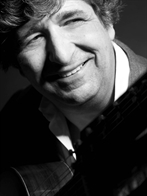 Simon Wynberg enjoys a diverse career as a guitarist, chamber musician and artistic director. He established and directed the Scottish chamber
festival Music in Blair Atholl for 20 years and was artistic director of Canada's Guelph Spring Festival from 1994 to 2002, when he was appointed Artistic Director of the ARC Ensemble, the ensemble-in-residence at Canada's Royal Conservatory of Music. His entry in The New Grove Dictionary of Music & Musicians describes him as "not only a virtuoso performer of distinction but one of the guitar's foremost scholars". He has researched and edited over 60 volumes of hitherto unknown guitar music and his many recordings (on Chandos, ASV, Hyperion, Narada, Stradivari, Vox and Naxos) have received glowing reviews and awards: the Penguin CD Guide Rosette; Gramophone Critics' Choice, and a Diapason Award.
He has performed at festivals throughout North America, including Newport, Bermuda, Sitka, Ann Arbor, Santa Fé and Ottawa. He has collaborated with many celebrated artists including the English Chamber Orchestra, the flautist William Bennett, the Gabrieli String Quartet and the violinists Mark Peskanov and Martin Beaver. He plays a ten-string guitar designed and built especially for him by the late Thomas Humphrey.