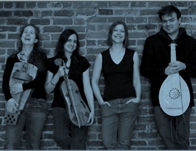 Sarah Barnes, soprano | Émilie Brûlé, medieval fiddle | Esteban La Rotta, gittern | Gothic harp | lute | Tobie Miller, recorder | hurdy gurdy
Ensemble La Rota specializes in the performance of medieval music in a historically informed and creative style. Since its inception in 2002, the group has met with praise for its rich sound, instrumental virtuosity, and mastery of medieval improvisation. The four members of this dynamic young group met while students of the Early Music Program at McGill University (Montreal, Canada). Ensemble La Rota won the 2006 Early Music America Medieval
/ Renaissance Competition in New York City, and in 2005 the ensemble won both the Jury and the People's Choice Prizes at the CBC Galaxie / Montreal Baroque Competition. As finalists in the 2005 Early Music Network International Young Artists Competition, they performed at the York Early Music Festival in England. Ensemble La Rota has performed extensively throughout eastern Canada, with concerts at the Indian River Music Festival and at
the Montreal Baroque Festival.
Though this 2009 album is the final recording made by La Rota before the group disbanded in 2013, Sarah Barnes, Émilie Brûlé, Esteban La Rotta, and Tobie Miller continue to be active as solo performers