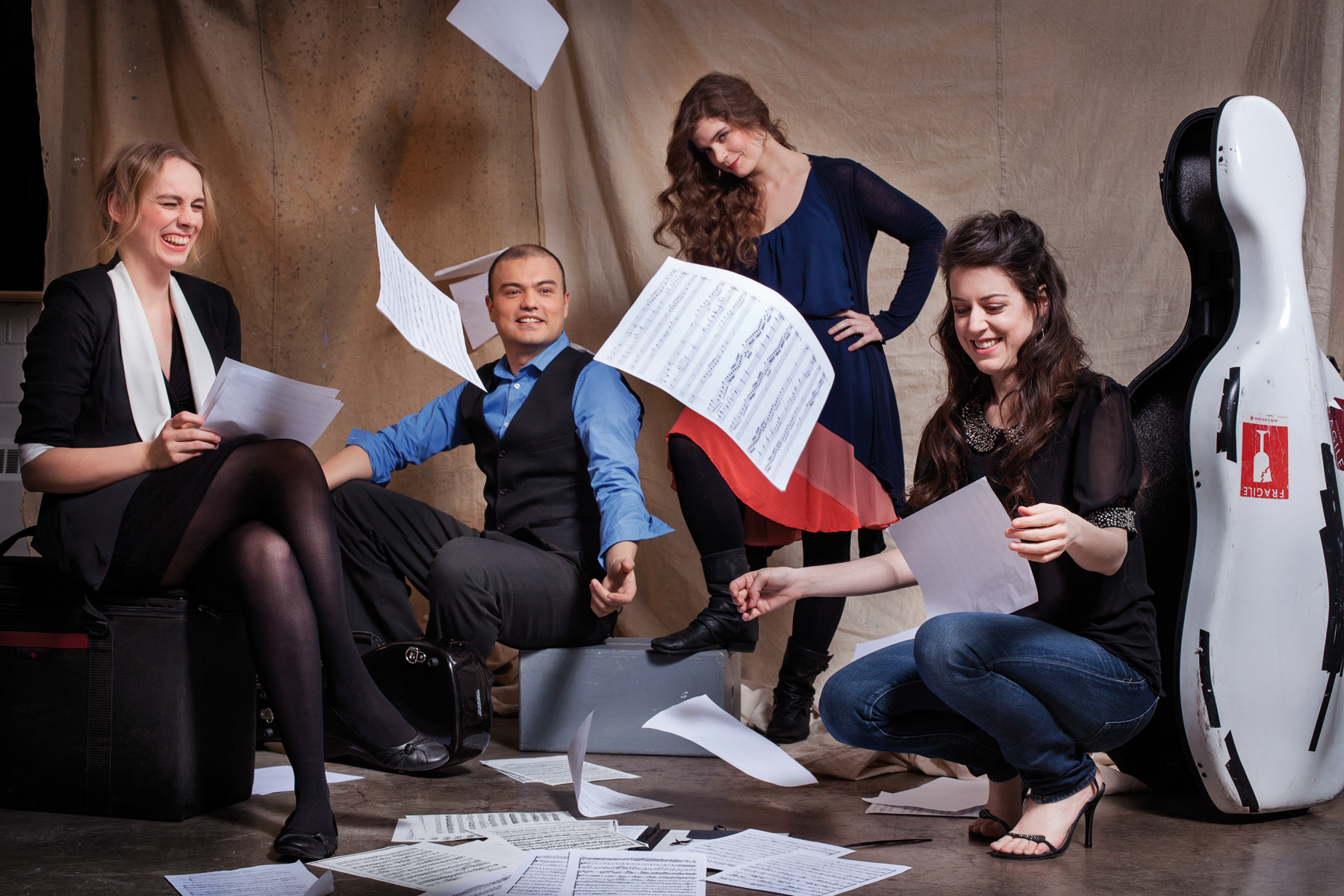 Cellist Elinor Frey is a member of period ensemble Pallade Musica, the 2012 Grand Prize winners at the Early Music America Baroque Performance Competition in New York. Pallade Musica brings together four of Montréal's most promising period instrument performers including Elinor on Baroque cello, Tanya LaPerrière, Baroque violin, Esteban La Rotta, theorbo, and Mylène Bélanger, harpsichord. Their debut recording Verso Venezia will be released on April 29, 2014. ATMA Classique caught up with Elinor when she was in New York for concerts earlier this month.

1. How did the ensemble come together?
We had been playing together with some of the other longer established Montréal groups, such as Ensemble Caprice and Les Idées Heureuses. Both collectively and as individuals, we were searching for our own projects. I had a little concert series at a paper store in downtown Montréal which was designed for professional musicians to try something new – maybe a piece they'd always wanted to play in a very casual setting. In 2011, I had a night dedicated to the violin, and Tanya LaPerrière played a sonata by Marini. Mylène Bélanger and I played with her and it was just really good chemistry. Esteban La Rotta also played theorbo so wonderfully, so we decided to try and have an ensemble that had a really rich basso continuo – theorbo, cello and harpsichord. Often these groups have two violins, and instead we have violin and cello, both of which can take leadership roles. We got together over a beer and decided to do a concert. Part of the impetus for me in getting these people together is that I really love the violin, and there were specific pieces of violin music that I wanted us to play. Since I liked Tanya's playing so much, I asked for certain pieces and we made a demo and got into the Early Music America competition.

2. Tell us a little about each of the musicians in Pallade Musica.
We're all based in Montréal, but we have different backgrounds and each of us has been playing early music for different periods of time. Esteban is from Bogotà, Colombia, I'm from Seattle but am permanent resident of Canada, and Tanya and Mylène are both Québécois.
Each of us has lived in Europe for a year or more to study early music. We've all travelled and have tried to pick up different influences. We each bring very different perspectives to the group: I really love Italian music, and Mylène really loves French music, and Esteban plays a lot of Renaissance music. That means that we usually have to rehearse longer and try out lots of different things until we arrive at something special.
3. What impact did winning the Early Music America prize have on establishing the ensemble's reputation?
I think it was essential and very important for two main reasons: One, it helped other people take us more seriously, and two, it gave us more confidence. Both those things really help you go farther. When you feel you have something to say, you feel more confident putting yourself out there, and you think, if we try a little harder and really push, it may be worth it. The confidence and desire has to come from us and from our effort: our willingness to rehearse more, our willingness to send out those e-mails asking for concert bookings. Of course, the prize makes it easier to get more concerts and get more people to come and listen. Winning the competition is what got (ATMA president) Johanne Goyette to come to a concert! By the way, we thought it was a total pleasure to work with Johanne and the ATMA team, who were very professional and sensitive. In the recording process, Johanne really saw what we were going for, so it was a complete pleasure.
4. What qualities do you think distinguish Pallade Musica from other similar ensembles?
We've tried to bring out what would happen if four people stick together and learn from each other. The chemistry is between four individuals. For chamber music, we're able to explore a particular repertoire for our instrumentation (violin, cello, continuo of theorbo and harpsichord), so we're delving deep. We spend a lot of time trying to work on things like the affect and the colours and the textures of the music. Also, we really feature each person as a soloist: there's a cello sonata, there's a harpsichord feature, a theorbo feature in most concerts, so the change of texture happens in each concert. When we all come together there's a lot of intensity. One thing we bring out is the elegance and the calmness in this music. A lot of players these days mistake aggressive playing for intensity, and it doesn't always work.
Many early music groups know a lot about the history and do research, but we're trying to combine music that people may know with lesser-heard pieces. So the research aspect is really I important. Every concert has at least a few pieces that most of the audience will have never heard before. We're not limiting ourselves though – we might do an all – J.S. Bach programme one day!
5. How do you decide on repertoire? Is one person the leader or is it completely collaborative?
It's collaborative. This is one thing that's very difficult but very beneficial: to try and have a group in which four people are fully invested. The artistic decisions happen slowly over time between all four of us, and that means a lot of e-mails and a lot of talking. For the first programme we did (the one that won the EMA competition), I suggested the program's title (Terreno e vago), but everybody had their say about the pieces.
6. You seem to have a real affinity for Italian repertoire.
We discussed this for a long time: these days CDs tend to be either compilations or very academic – opera completa — a whole opus of one composer. The problem with that is that it is difficult to find 60 minutes of baroque music for violin as a separate line, cello as a separate line, basso continuo – by one composer. A compilation is a hard sell, so we tried to strike a balance between those two: To do the works for our instrumentation by three composers. This is only our second full season; in our first year we did lots of Italian music, and the playing was developing so it was a good way to put our best foot forward and it fulfilled the idea of having both known and lesser-known music on the CD.
7. Tell us about Pallade Musica's upcoming projects and performances.
Our next concert is in Montréal on April 27, and we'll be playing with La Chamaille from Québec City. What's really exciting is our tour to Bogotà, Colombia in May – three concerts, a master class and lectures. Esteban organized all that, and it will be really thrilling to play there. This concert series has been going on for a while – Jordi Savall has played on it, so we're honoured to be part of it.
June is really busy for us: we're going to perform at the Connecticut Early Music Festival, and then Festival Montréal Baroque, where we'll be playing the entire CD programme. The week after, we play at the Indianapolis Early Music Festival. Next season we'll also play in San Francisco, Syracuse, Seattle, Edmonton, Calgary, Pittsburgh, Tucson, and more places!
Interview by Luisa Trisi, © ATMA Classique, 2014