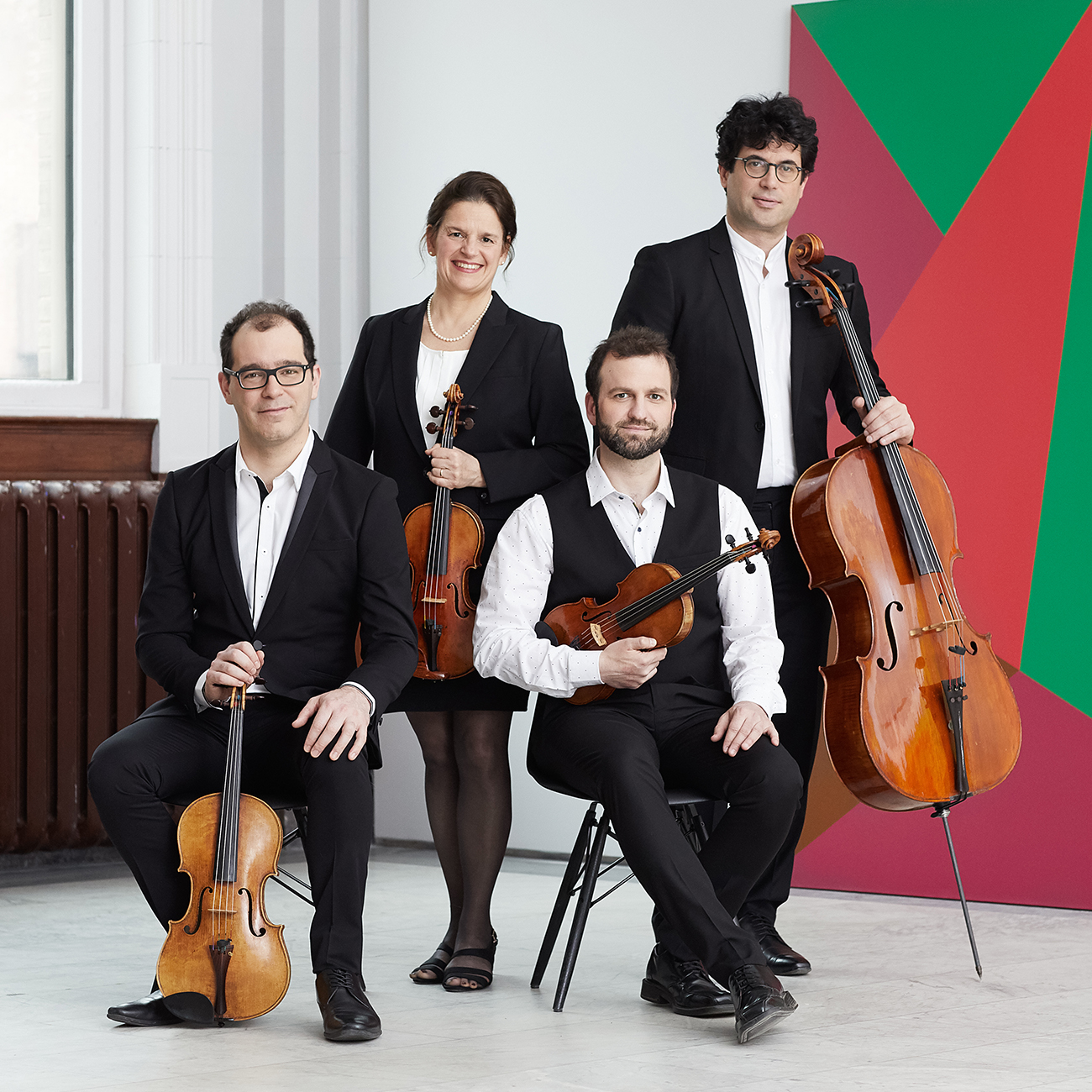 Olga Ranzenhofer,  violin, artistic director; Antoine Bareil,violin; Frédéric Lambert, viola; Pierre-Alain Bouvrette, cello
Internationally acclaimed by the public and the critics since its foundation in 1997, the Molinari Quartet has given itself the mandate to perform works from the 20th- and the 21st-century repertoire for string quartet, to commission new works and to initiate discussions between musicians, artists and the public. Recipient of 23 Opus Prizes awarded by the Quebec Music Council for musical excellence on the Quebec concert stage, the Molinari Quartet as been described by the critics as an "essential" and "prodigious" ensemble, even "Canada's answer to the Kronos or Arditti Quartet".
The Molinari Quartet has established itself as one of Canada's leading string quartets. In addition to many Canadian works, including the 13 quartets by R. Murray Schafer, the Molinari Quartet's repertoire includes quartets by Bartók, Berg, Britten, Debussy, Dutilleux, Glass, Gubaidulina, Kurtág, Ligeti, Lutoslawski, Martinů, Penderecki, Ravel, Scelsi, Schnittke, Shostakovich, Webern, and Zorn.
The Molinari Quartet was heard twice as soloist with the Orchestre symphonique de Montréal under Charles Dutoit and in the spring of 2018, it premiered the Concerto for string quartet and orchestra by Samy Moussa with the Orchestre Métropolitain of Montréal under the direction of Nicholas Carter. The Quartet has been invited to perform in numerous concert series and festivals in Canada, Mexico, China, and Europe.
Its recordings on the ATMA Classique label have received international critical acclaim including two Editors' Choices by Gramophone magazine and rave revues from, among others, The Strad, Fanfare, and Diapason. Its recording of the complete György Kurtág quartets has received a Diapason d'Or in December 2016 and the prestigious German Echo Klassik award for 20th- and 21st-century chamber music in July 2017. The Molinari Quartet's recording of quartets by John Zorn, published in 2019, received the Opus Prize for Album of the Year – modern, contemporary music, and was nominated for a Juno award in January 2020.